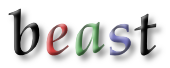 BEAST/BSE version 0.7.4 is available for download at:
This release integrates the bse-alsa driver for which no seperate package is now needed.
BEAST is a music composition and modular synthesis application released as free software under the GNU LGPL that runs under Unix. Refer to the About page for more details.
The 0.7.4 release integrates the bse-alsa package, several speedups, important bug fixes and translation updates.
TRANSLATORS: Please help us to improve the BEAST translation, just download the tarball, edit po/.po and email it to us or submit translations directly via the Beast page at Transifex.
Overview of Changes in BEAST/BSE 0.7.4:
Renamed the project to Better Audio System / Better Sound Engine

Moved project website to: http://beast.testbit.eu/

Various build system fixes [stw,timj]

License fixups for some scripts [stw]

Fixed subnormal tests on AMD64 if SSE unit is in DAZ mode [stw]

Replaced slow resampler checks with a much faster resampling test [stw]

Performance improvements for various tests [stw]

GLib 2.28 unit test porting [stw]

Speed improvements for record field name [stw]

Fixed XRUNs in ALSA driver on 64bit systems [timj]

Added beast.doap [Jonh Wendell]

PO handling improvements.

Updated German translation.

Updated Norwegian bokmål translation [Kjartan Maraas]

Added e-Telugu translation [Veeven]